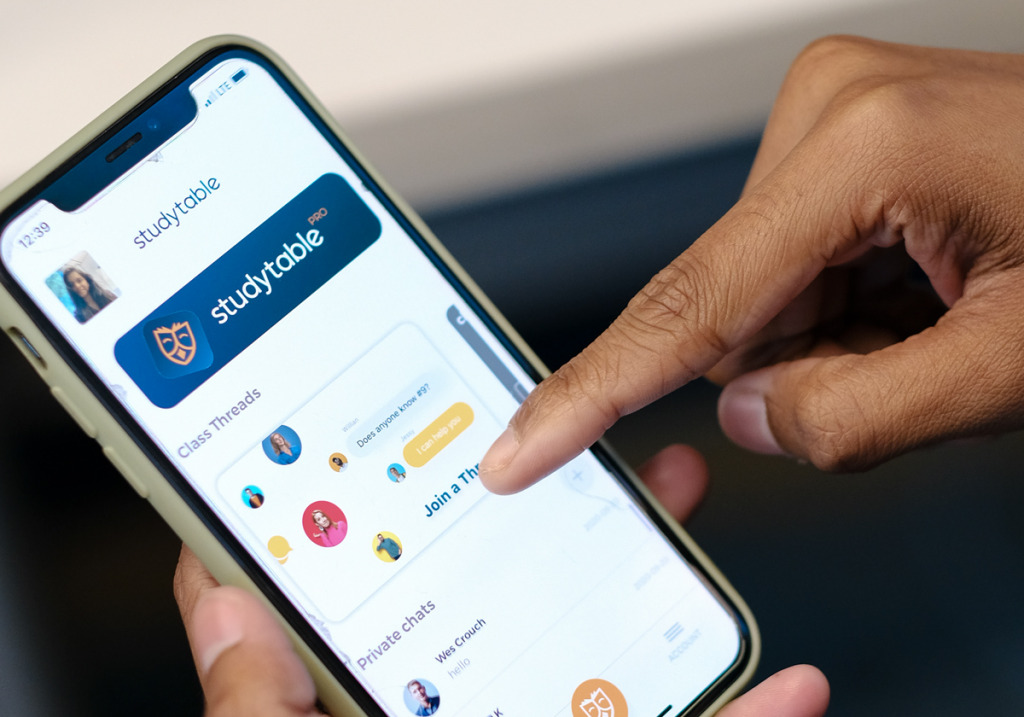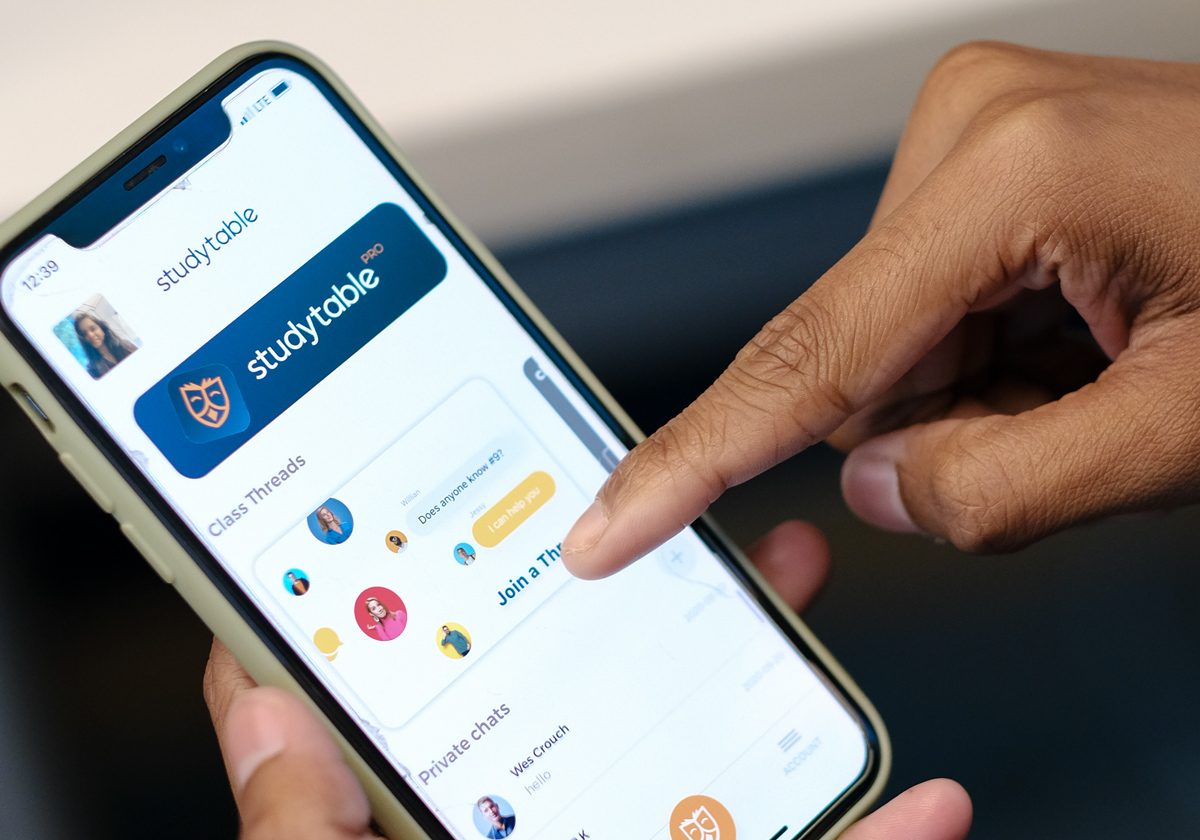 Studytable targets college students with a platform that lets those who are higher achieving help those who are struggling. (IBJ photo/Eric Learned)
The educational technology sector is exploding nationally and central Indiana is scoring an A+ in capturing a chunk of that growth.
The United States is home to almost half of the world's ed-tech companies and provides more venture capital funding to that sector than does any other nation, according to a report released earlier this year by RS Components, a United Kingdom-based electronics company.
The report—an analysis of data from business researcher Crunchbase—found 1,385 ed-tech companies in the United States, 43% of the global total. India had the second-highest number, with 327.
The sector's worldwide market value is growing at a double-digit annual clip and is set to reach $252 billion this year, Forbes reported. Tech goliaths—such as LinkedIn, which acquired Lynda, a California-based online learning company, for $1.5 billion in 2015—are increasingly jumping into the ed-tech fray.
Central Indiana is home to more than 30 educational technology companies, about three times as many as just five years ago, industry experts told IBJ.
As a result, the metro area is becoming known as a burgeoning ed-tech hub, sources said, with well-known national firms eager to partner with or scoop up local companies and talent.
In December, Mimir Corp., a 5-year-old Indianapolis-based ed tech company, was acquired by fast-growing Silicon Valley-based HackerRank.
Mimir, which makes a cloud-based platform for computer science courses, had eight employees. All eight, including CEO and co-founder Prahasith Veluvolu, joined HackerRank; the company maintains a presence here.
In 2018, Civitas Learning, an Austin, Texas-based ed tech company backed by more than $70 million in capital and with more than 350 colleges and universities as customers, acquired ClearScholar, an Indianapolis-based student engagement firm.
Earlier that year, VeriCite Inc., a Fishers-based maker of plagiarism-detection software, was acquired by Turnitin, a Silicon Valley-based leader in the plagiarism-detection field. Turnitin officials said they were attracted to VeriCite by the quality of its technology and staff and its healthy customer base, which had grown to 175 colleges and universities in just two years.
Turnitin officials said they also were drawn to Indianapolis, because of the wealth of ed-tech talent here and the relatively low cost of living and doing business.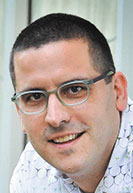 In March, London-based Learning Technologies Group announced Indianapolis would be the headquarters of its new learning-management subsidiary, Open LMS. That decision is seen as a sizable boost to the city's ed tech sector.
And LTG made the move with a group of Indianapolis ed-tech veterans, including Phil Miller, who became CEO of the new subsidiary.
"People know that Indianapolis is a really strong marketing-tech town," Miller told IBJ. "But it's also a very strong ed-tech town. That's one of the best-kept secrets in the Indianapolis technology sector.
"We're going to use the talent here," he added, "and the resources of LTG to grow this operation considerably."
Although a number of players have helped grow Indianapolis' ed-tech sector, the key was Angel Learning, a company spearheaded by IUPUI professor Ali Jafari and one of his students, David Mills, and spun out of Indiana University in 2000.
Angel Learning turned out to be a boon for IU, which invested $130,000 in the innovative company and netted $23 million when it was sold to Washington, D.C.-based ed-tech behemoth Blackboard for $100 million in 2009. Blackboard opened an Indianapolis office on the north side and swelled to more than 100 employees here.
In 2010, a number of leaders who were part of Angel joined educational technology firm Moodlerooms and opened an Indianapolis office for the company. In 2012, Blackboard bought Moodlerooms and absorbed its Indianapolis presence.
"Angel Learning was our tech community's most notable ed-tech success," said Mike Langellier, CEO of TechPoint, an Indianapolis-based tech industry advocacy organization and accelerator. "Since that time, we've seen numerous local startups enter the space. Amidst all of the disruption in education, I hope to see even more startup activity locally."
It would be difficult to find anyone in the tech sector who thinks the growth in ed-tech will abate anytime soon.
"The current education model is being challenged," said Michael Walden, president of New York-based investment group ReThink Capital Partners, which has a division focused on ed tech. "People are looking to alternatives; that's why schools will continue to innovate. Schools everywhere are looking to increase their effectiveness in imparting knowledge and relevant skills to students. And there's pressure on schools—especially colleges and universities—to do so while lowering costs. There's no way you can put this back in the bottle.
"That doesn't mean technology is a substitute for a good teacher," Walden said. "We are all appreciating the value of a good teacher now more than ever. Technology is only going to enhance what a good teacher can already do."
While the coronavirus-fueled remote-learning trend has intensified the sector's growth, Walden—whose company has made several investments in local ed-tech companies, including Lessonly, Codelicious and Kenzie Academy—said that's not the only reason ed tech is growing.
"The ed-tech sector was already accelerating heading into this year," he said. "Everyone these days is dealing with technology on all levels, from primary and secondary schools to colleges and universities."
But the spotlight the pandemic put on ed-tech companies has investor interest "way up," Walden said. "Indianapolis, with its emerging startup tech scene, is poised to capture part of this growth."
IBJ recently talked to a handful of rising ed-tech companies to see what is going on with their firms and how the pandemic has caused them to innovate even more.
Plus, you can find details about two more companies and one ed-tech not-for-profit at IBJ.com/ed-tech.
West Lafayette firm uses augmented reality to teach science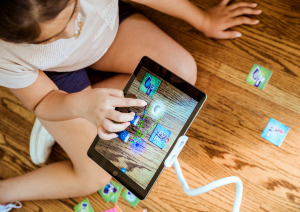 West Lafayette-based Explore Interactive is a prime example of the creative companies in the local ed-tech industry.
It got its start when co-founder Wesley Virt started making videos for high school biology teachers. As he was doing so, it dawned on him that younger children needed to be exposed to STEM studies.
Based out of the Purdue Research Park, Explore Interactive has pioneered the use of augmented reality to bring elementary students hands-on engineering experiences.
The company's newest product—MindLabs: Energy and Circuits—is the result of three years of effort and two federal grants, from the National Science Foundation and the National Institutes of Health.
MindLabs is the ideal learning tool for solo or team play, even if students are in multiple locations, said Explore Interactive co-founder Amanda Thomp-son, who is also the company's CEO.
"This is something the students can build together, even when they're not together," Thompson said.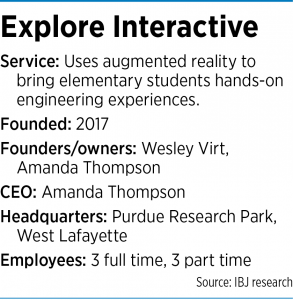 With MindLabs, students place special cards under a smartphone fueled by the company's app. The phone's camera turns those cards turn into three-dimensional objects, which can be stored.
Students can manipulate 20-plus cards (picturing batteries, light bulbs, fans and more) into circuits, drawing the connecting wires and seeing the electricity move through the wires.
The game includes a troubleshooting element. "Kids can learn a lot when they look at something already built and find the problem," Thompson said.
The set of MindLabs cards is a fraction of the cost of a $100 circuit set. And, Thompson added, the MindLabs game "talks to kids, and the [physical] sets don't."
The original edition was planned to have six sets of cards—designed to be one per table in a classroom.
Earlier this month, Explore Interactive released a MindLabs edition with 30 individually wrapped sets of cards so teachers can give each child a set—and they can take them home.
In October, the company is releasing an at-home version of the game that will be marketed directly to parents for the first time. It comes with two sets of more durable cards.
"We feel this product is amazing," Thompson said. "It gives students the opportunity to work with scientific ideas that are difficult to conceptualize … to build that intuition for how and why something works."
Explore Interactive, which was founded in early 2017, has been fueled by $300,000 from the National Institutes of Health, $250,000 from the National Science Foundation and $100,000 from Indianapolis-based Elevate Ventures.
Elevate and Purdue Ventures combined to award Explore another $100,000 so the firm could build
its prototype.
Need to track students' academic status fuels company's growth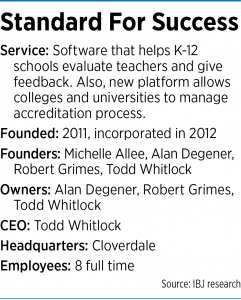 Standard for Success, a Cloverdale-based educational software company, has grown at a strong double-digit annual clip through 2019. Earlier this year, it launched a service line company officials are confident will help the firm expand further by signing deals with colleges and universities nationwide.
From its 2011 founding through 2019, Standard for Success has grown its customer base and revenue each year. The company now serves 400 school districts in 20 U.S. states and Canada, and nearly half of Indiana's K-12 districts use its teacher-evaluation and feedback software.
Customers include Indianapolis Public Schools, Fort Wayne Community Schools, Hamilton Southeastern Schools, South Bend Community Schools, MSD Perry Township, MSD Wayne Township, Carmel Clay Schools, MSD Lawrence Township and Vincennes Community Schools.
Its higher education offering, Accreditation, launched in March. It allows colleges to track the progress of students pursuing a degree and teaching license. It also collects program data for accreditation reporting.
Already, Hanover College in Madison and Kentucky Wesleyan College in Owensboro, Kentucky, have signed on, and company officials said they have four more potential deals in the works.
"Standard for Success has streamlined our evaluation and data-gathering process from a cumbersome, disconnected system to a fine-tuned machine," said Dustin Bailey, chairman of Hanover's education department.
In 2016, Standard for Success also started supplying people to help schools with the teacher evaluations.
In 2017, the company launched Graduation Pathways, a digitized platform that helps high school administrators track the academic status of its students, including making sure they have achieved what they need to graduate and meet post-secondary requirements. Whitlock said Pathways is the fastest-growing segment of the company, due in part to mandates in 35 states for this type
of tracking.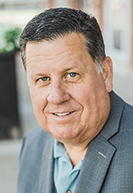 In March, Standard for Success released another platform, Analyze, an early-learning programming assessment tool aimed at preschools.
Having grown 105% from 2016 to 2019, Standard for Success was recently named to the Inc. 5000 list of fastest-growing companies in America.
"We've grown every year since our inception and we've retained more than 90% of our customers," said Todd Whitlock, a former North Daviess school administrator in southwestern Indiana who is co-founder and CEO of Standard for Success.
Due to the pandemic, company revenue is projected to be flat this year, but the firm is projecting near 30% year-over-year growth in 2021. Company officials declined to divulge the firm's revenue.
Whitlock said the company is "set up to explode in the 2021 calendar year and beyond."
Beta response 'has been incredible'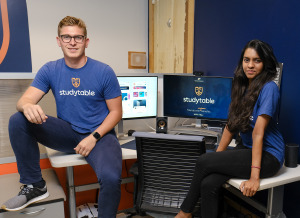 Founded in 2017 as Tudr, few startups in any sector have a founder and CEO more excited about their company.
Wes Crouch, 26, founded Studytable with his brother Joe, 38, and espouses its virtues like a fire-and-brimstone preacher.
"Our system is heavily broken. College classrooms are highly segmented. They rely on only a few people for input," Crouch said. "Fear and anxiety often keep others from participating. Students resort to all kinds of things to get by—including cheating. If you connect underachieving students to those over-achieving students, the system would be much more effective."
Crouch said his company, rebranded in January, has a way to do that.
Crouch's company originally sought to bring students together for more traditional tutoring and studying. But the coronavirus caused him to rethink that.
"COVID killed our distribution channel," he said. "When COVID hit, we made a radical change. We wanted to create this digital interaction."
So Crouch and his small staff created a platform—that he said is a little like YouTube—in which high-achieving students create channels and students who need help subscribe to them.
The system pays high-achieving students based on how many people tuned into their channel, while creating a low, flat-rate fee structure for students who need help.
"With our platform, we want to make every student a friend from class—no matter what school they go to and where they are in the country," Crouch said. "The fact is, many schools use the same textbooks and the same general course curriculum."
Studytable is coming out in January with a new payment model for students who have channels on its platform, Crouch said. He expects to have a subscription model in which students who need help can pay $15 per month for all channels.
The platform also has a function that allows one-on-one tutoring. "We created private channels between students, too, solely for that reason," Crouch said emphatically.
"Everything we've done has come directly from students saying they need this."
Studytable has been beta testing at Purdue University and the University of Missouri. Students with a channel can post notes, study guides and tips, as well as homework tutorials and more, Crouch said.
The response from beta testers "has been incredible," he said.
And students aren't the only ones clamoring for Studytable.
"We've generated quite a bit of excitement with investors with this new model," Crouch said. "They think we've removed a lot of friction from the old model and this really opens us up into new markets."
Studytable has raised nearly $500,000 from angel investors, and company officials are currently working to raise a $500,000 pre-seed round. In January, the company plans to start on a $1.2 million seed round.
Crouch projects annual recurring revenue of $550,000 by next May.
"Nothing will ever replace going to class and one-on-one time with the professor," he said.
"We're promoting better studying and note-taking skills. … And we think we're doing it in a very unique and innovative way that a lot of students will really embrace."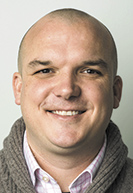 Grant helps peer-to-peer startup expand services
Kevin Berkopes, too, had the idea that students might be the best tutors for other students.
So, while directing learning centers at IUPUI, he developed what he called the Learning Commons model of peer-to-peer educators, or students who are paid to help other students learn.
That turned into a company, Crossroads Education—which is his full-time job today—that puts his tutoring program into schools. The company recently received an anonymous $500,000 donation that it used to expand that Learning Commons tutoring program to 10 more schools in Indiana.
Crossroads Education, which created a mechanism of educating that revolves around technology combined with peer-to-peer tutoring and adult mentors working with students, was founded in 2016 and implemented in its first school—Crispus Attucks High School—in 2017. It expanded into elementary and middle schools in 2018 and recently began working with colleges.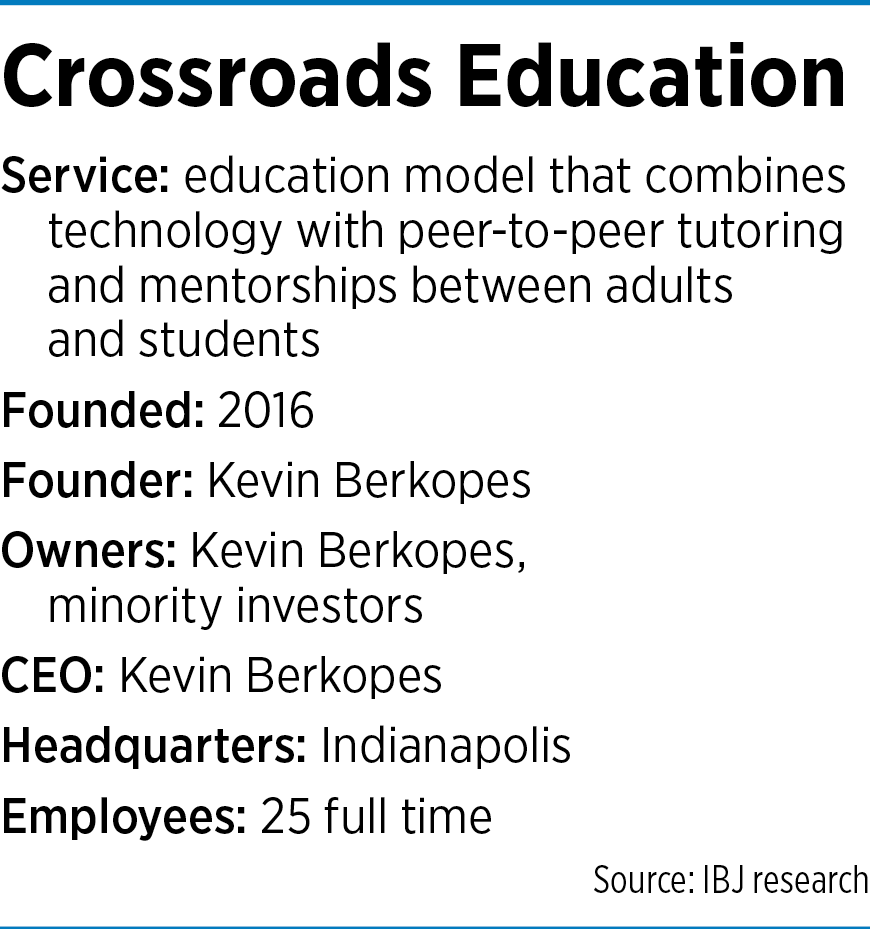 The Indianapolis-based company works with school systems to provide high-tech in-school co-working spaces and tech-based learning platforms for students.
"Our system has worked in a broad range of schools from inner city and rural to private and public," Berkopes said. "It's a very agile product."
Despite the pandemic, Crossroads Education is growing so fast, Berkopes said, the firm will double its number of employees—to 50—by the end of this year. Revenue, he said, will more than double this year as the company has expanded beyond Indiana.
"We're experiencing exponential growth right now," Berkopes said. "It's really exciting. We're working on a lot of really cool things through this year and into next year."
But it's not just about growing revenue for Berkopes. Working with children is a calling for him. In the wake of the coronavirus outbreak and resulting school closures, Berkopes this spring and summer spent countless hours working with Gleaners Food Bank, Second Helpings and Piazza Produce Inc. making sure displaced school children had enough to eat.
He worked with T-Mobile, Dell and other local and national tech companies making sure children had the internet access they needed to complete school work from home.
"We had to pivot to answer the call from the community," Berkopes said. "And with schools closed, demand for online tutoring went way up. I'm so happy we were there to help."
Some 4,000 kids use Vimme to learn math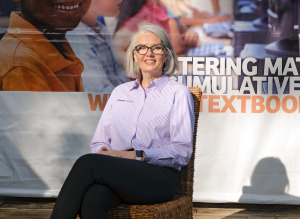 Tammy Laughner is so committed to Vimme Learning, the company she founded in 2014 and co-owns, the retired teacher is currently working for no pay.
Vimme Learning specializes in online math curriculum for kindergarten to junior high students.
"We created a tool that helps teachers get deep in the concepts, so it helps students really build out their math skills," Laughner said.
She recalled a conversation she had with fellow schoolteachers.
"We started talking and wanted to change the way we teach math," Laughner said. "Traditional textbooks were not working for us. We were creating these tests weekly and were spending way too much time grading papers. We just kept thinking of more ways to use technology as a tool for teachers."
While the company doesn't have any paid employees, it does count on a dozen contractors to help produce its cloud-based platform.
"When COVID hit, we were already in the e-learning space," said Laughner, who taught in the Indianapolis Public Schools system for 27 years.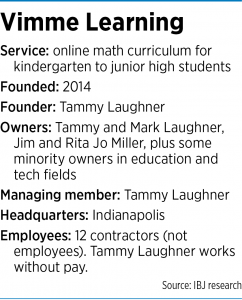 The number of schools using the company's app has increased 30% over the last school year. During the same period, the number of students using the app has reached 4,000, a 43% increase, Laughner said.
Vimme doesn't have much of a sales and marketing staff. The company's footprint spans Indianapolis and parts of east-central Indiana.
"We've grown organically," Laughner said. "We grow by teachers telling teachers and principals telling principals. We're not for everyone. We are looking for people interested in academic rigor and people who believe that tech is the future and all the answers aren't found in textbooks. People are starting to realize the advantages that
tech provides."
That doesn't mean Laughner thinks teachers don't have an important role to play.
"Teaching is always going to have a human component," she said. "We look at tech as another aspect of teaching."
Pandemic big boost for coding school Kenzie
Kenzie Academy, an Indianapolis-based coding school, is no stranger to online learning.
Founded in 2017, Kenzie focuses on delivering software engineering and user experience computer programming training to "an economically and ethnically diverse student base," said Chok Ooi, co-founder and CEO of the venture-backed for-profit operation.
The pandemic has provided a big boost for Kenzie.
"We've seen applications increase more than 300% since March," Ooi said. "There's a lot of demand right now for what we're offering. The last two quarters are the biggest in the company's history."
In 2018, Kenzie enrolled 75 students. This year, Kenzie is on track to enroll more than 800 students, with 250 students set to begin classes in October, Ooi said.
Ooi has his foot firmly on the accelerator, aiming for Kenzie to graduate 10,000 students over the next three years.
Kenzie offers students a one-year training program and starts a new class every quarter.
Ooi doesn't have a crystal ball, but his timing couldn't have been better.
In November, Kenzie announced it has lined up $100 million in tuition financing to help incoming students pay for training.
With lots of unemployed workers looking for alternative careers and prospective students looking for a school where they can learn from home, interest in Kenzie—which has a growing national footprint—has never been higher, Ooi said. "Our incoming applications continue to be through the roof."
Kenzie's model doesn't count on having a physical campus or a lot of licensed educators.
"Our model is project-based learning, not lecture based, so we need fewer instructors," Ooi said.
Kenzie leans heavily on industry professionals to teach students hands-on, he added.
Using fewer licensed instructors doesn't mean Kenzie isn't hiring. The company has 98 full-time employees and Ooi said "we'll be hiring No. 100 in the next few days."
Just because Kenzie does most of its teaching and training online, doesn't mean students sit at home working and studying on their own.
"Much of our teaching and learning is done via Zoom and Slack," Ooi said. "We've developed a system where our students work in small group settings, but the students also have access to all the other students as well as staff and alumni.
"We joke that the rest of the country caught up to us during COVID," he added. "It's a very collaborative and community way of learning."
And it's also a system set up to stop brain drain.
"Our goal is to train people in their local communities and help communities retain talent," Ooi said. "You shouldn't have to move to Silicon Valley or New York if you want a good tech career."
The school, Ooi said, has placed its graduates at a bevy of tech and tech-enabled firms, including locally based Springbuk, Zylo and Angie's List.
Not-for-profit Nextech plans virtual conference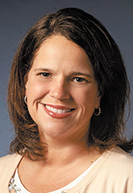 It's not just for-profit companies fueling central Indiana's ed-tech sector.
Former ExactTarget CEO Scott Dorsey in 2015 launched a technology-focused not-for-profit, ExactTarget Foundation, aimed at closing the widening gap between tech jobs and qualified candidates for those jobs.
Nextech was then created by reorganizing the ExactTarget Foundation under a new name and mission. Dorsey, the organization's chairman, and Karen Jung, its executive director, have overseen Nextech's mission to help cultivate tech talent in Indiana by focusing on K-12 students.
"Nextech is on a mission to create equitable access to computer science curriculum and experiences for all K-12 Indiana students," said Jung, who for more than a decade worked at ExactTarget—a marketing tech firm that sold to Salesforce for $2.5 billion in 2013. "There is a shortfall today and there is forecasted to be a greater shortfall in the future in workers to fill tech jobs. Nextech provides a funnel to help students to pursue those opportunities.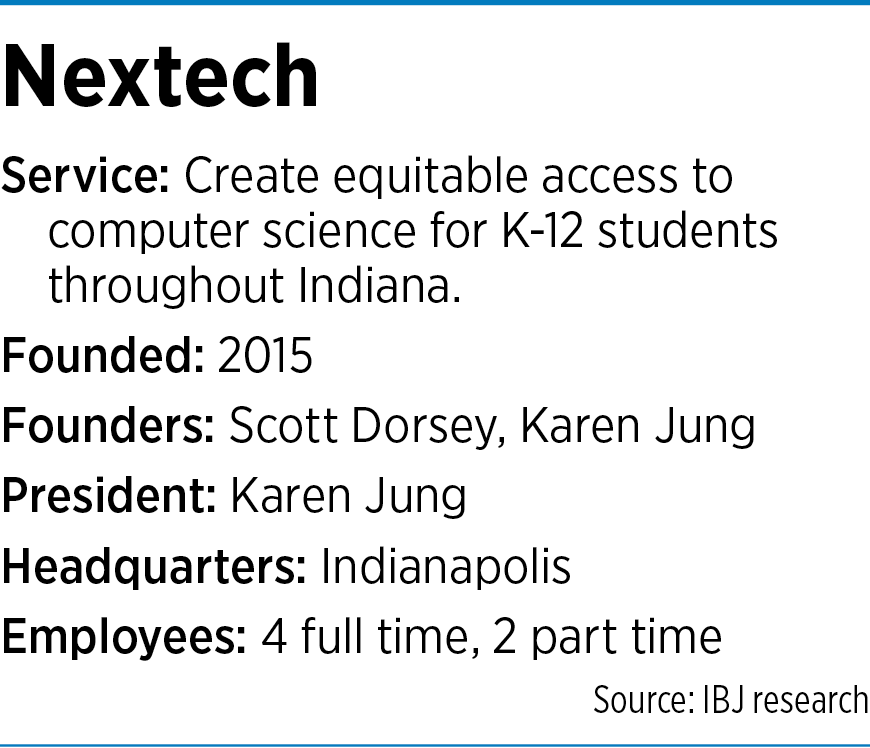 "We're also trying to fill the tech talent gap we have in Indianapolis and Indiana," she added. "A huge part of our goal is to help fuel the local talent pipeline."
The pandemic has increased the urgency of Nextech's mission.
"COVID has shined a huge light on the need for computer science," Jung said. "If we are not preparing students to use technology to innovate, we're not preparing for the future."
The pandemic, Jung said, "has caused us to lean into innovation in ways we might not have done otherwise."
Nextech does K-12 teacher training and works directly with students, mostly at the high school level.
In December, the organization is rolling out a first-of-its-kind one-day virtual conference, Nextech Navigate, that will be accessible to 340,000 students across 700 Indiana high schools.
Nextech Navigate will have opening and closing keynote speakers and it will offer three tracts for students to choose from during the conference.
One will showcase Indiana careers and jobs and allow students to meet local workers and learn about their jobs. The second will teach students how best to prepare for life after high school, including how to build a portfolio and prepare for work and explore post-secondary educational opportunities. The third will allow students "to roll up their sleeves and learn more about tech skills," Jung said.
"This is not a one-and-done event for us," Jung said. "This is the beginning of a new resource for students and teachers across the state. This gives students the opportunity to exercise their own choice in what they want to learn about. This conference gives students freedom to create their own agenda and to say what is most important to them. That freedom of choice will make this experience mean the most to them."
Nextech, which has a $1.2 million annual budget, is funded through grants from the state, departments of education and foundations, Jung said.•